KAADA IS AN ARTIST, COMPOSER AND SOUNDSMITH FROM NORWAY. SOMETIMES HE MAKES MUSIC FOR HIMSELVES,  SOMETIMES FOR TV AND FILM. HE ALSO LIKES COFFEE & PLANTS VERY MUCH,  ESPECIALLY TREES. 
 Welcome to the new www.kaada.no! Here you'll soon find a collection of the most relevant releases, sessions and filmmusic related projects.  You will find details of some different projects Kaada has been involved in, embedded within this ever-growing section as well as the occasional internal perspective or story that may be associated with it.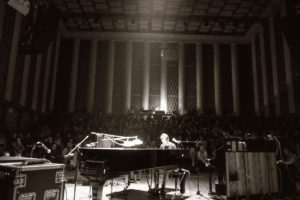 John Erik Kaada (or "KAADA" as he's often called) is a recording artist, multi-instrumentalist and producer from Norway. KAADA has also enjoyed a string of critically acclaimed solo albums, collaborations, and many records and world tours as a member of the alternative power-trio, Cloroform.   KAADA's style is perhaps most easily defined by his unique sounds and penchant for eclectic instrumentation.